Porsche 718 and 991.2 Turbo – Revised OTS Maps/ATP Updates
The 718 is an incredibly capable platform that loves to be tuned. In the pursuit of extracting more and more performance from the car through the Accessport, we have recently discovered many new tables and control systems within the factory ECU logic that allowed our calibration team to craft a new revision of the OTS maps that significantly improve the 718 Boxter/Cayman S across the board.
| | | |
| --- | --- | --- |
| V2.00 Stage1 93 vs Stock | | v2.00 Stage1 91 vs Stock |
| | | |
Heat Management – At increased power levels and aggressive driving, the 718 has issues with managing heat. Our engineering team uncovered some factory tables that are unused in the stock tune. These new tables give us more control over the cooling system on the car, allowing the Accessport to make more power while managing heat efficiently. The same table discovery also provided access to safety modes that can actively protect the engine in the event that excessive heat is experienced in extreme scenarios.
Power and Control – Not only do the latest map revisions make more power, but they also do so more smoothly and consistently. Discovering and understanding new tables related to turbo and torque management along with a fundamental change in fuel injection characteristics greatly improved the overall power curve. As seen in the graphs above, torque peaks almost instantly and holds steady throughout the rpm range while also producing large horsepower gains under the curve all the way to redline.
High Load Transmission Smoothness – The engine and transmission are connected both literally and figuratively. Changes in engine management have an impact on transmission behavior even when no direct PDK adjustments are made. More precise airflow control in the latest maps proves that point as the cars now shift more smoothly and consistently in high load conditions. Ensuring that the car is predictable and responsive when pushed to its limits at the track.
Overall, the v2.00 OTS Map revisions offer substantial improvements that benefit all facets of driving a Porsche 718 2.5L S Boxster/Cayman, and many of the improvements will be applicable to other 718 models in the future.
Please update your Accessport firmware using Accessport Manager and flash the latest map revision to the car.
Firmware Version – AP3-POR-010: 1.7.3.1-16388
Stage 1 91 91 v200.ptm
Stage 1 93 v200.ptm
Stage0 v200.ptm
See full Map Notes Here.
---
The defining characteristic of the 911 is the unending refinement that Porsche has instilled into the platform since its introduction many decades ago. We try to emulate that mindset in our approach to tuning the flagship German performance brand.
Testing at COTA, in the dyno cell, and on the street helped to pinpoint areas in previous calibrations that could benefit from minor tweaks. The latest Stage1 and Stage2 v1.07 maps for the 991.2 Turbo/Turbo S Accessport have a revised throttle control strategy that provides more consistent response and control across all driving conditions while preventing unwanted throttle closures and general performance restrictions.
Please update your Accessport firmware using Accessport Manager and flash the latest map revision to the car.
Firmware Version – AP3-POR-012: 1.7.3.1-16388
Stage 2 91 v107.ptm
Stage 2 93 v107.ptm
Stage 1 91 v107.ptm
Stage 1 93 v107.ptm
Stage0 v107.ptm
---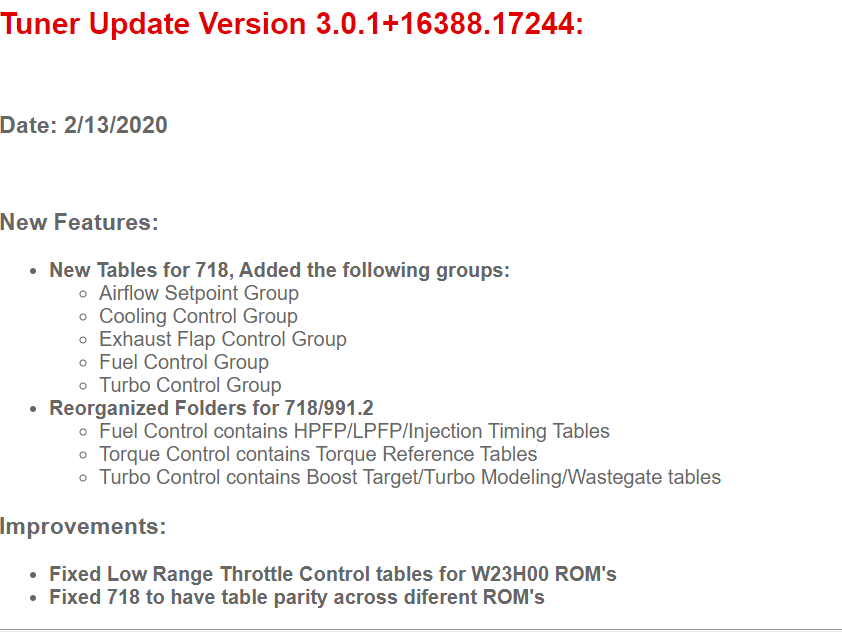 The above table updates and improvements have been applied to the latest version of Porsche Accesstuner Pro HL. Please update your software as soon as possible. We are also working on a new Tuning Guide that will be available to all approved Porsche Protuners soon!
Please contact the Porsche expert group via porsche.experts@cobbtuning.com if you have any specific questions regarding any of the updates.